Deli Salads
400gm pasta salad, potato salad or coleslaw
$5.99 each
Bratwurst Sausages
$12.99 a kg
Schulte's Knackwurst 2 pack $4.50

Baska Jon Organic Sauerkraut 700gm or Garden Fresh Sauerkraut 850gm $5.49 each
Friday, Saturday & Sunday only!
Grass Fed T-Bone Steak $21.99 a kg
Remia BBQ Sauces For Marinades & Dressings
$5.49 each
SHOP FOR FREE – Let Pete shout you this weekend!
Shop on Saturdays for your chance to WIN your basket of Schulte's goodies for free.
See our Facebook page for details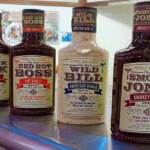 ALL PRICES ARE WHILE STOCKS LAST
Just come on in and ask our friendly staff for these and other fantastic specials!